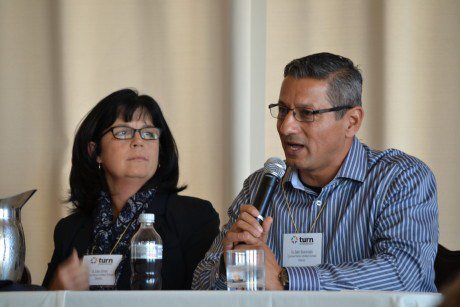 In a conversation moderated by Pat Dolan, teacher union leaders and district administrators from Corona-Norco Unified School District shared real challenges and important lessons about labor-management collaboration to improve teaching and learning. Panelists offered some frank commentary about how leaders with different perspectives need to find common ground, reach agreements about needs and how to meet them.
District leaders described a sense of urgency: as needs are identified and resources are available to meet them, administrators may see a clear way forward and be ready to act. From the association standpoint, members are carrying out the work of teaching on a daily basis, and often struggling with the demands of the moment. When leadership outside the classroom wants to press ahead, teachers often ask, with good reason, how decisions about change were made, and what supports are supposed to make change possible and effective. Adding more to a full plate can create stress and doubt. This tension was described as somewhat inevitable, but communication and collaboration can mitigate the problems that arise.
Audience comments raised issues among teachers seeking authentic participation in setting the direction of work and establishing priorities. If you engage a select group of teachers in a joint committee, the rest of the teachers may not feel included, heard, or subsequently invested in the work ahead. If you engage a broad cross-section of teachers, there's a risk that processes slow down too much, with too much talk and not enough action.
The value of the conversation seems to be in hearing how much we have in common in the challenges that lie along the road to change and improvement. Organizations that collaborate and thrive are not solving every problem and avoiding every obstacle, but rather, are dealing with them openly and acknowledging tensions. They continue to revisit their purpose, gather more information, and refine their collaborative processes.